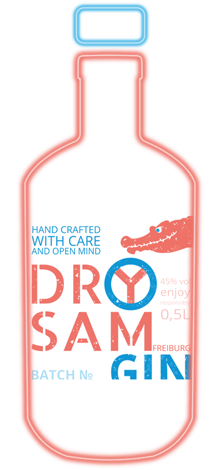 Klassischer London Dry Gin neu gedacht. Zitrusnoten, feine, schokoladig-karamellige Röstaromen, frische leichte Ingwerschärfe – das ist unsere Version eines klassischen London Dry Gins!
Nine handpicked botanicals, including arabica coffee, citrus, ceylon cinnamon, combined with a well balanced choice of juniper berries are the begin of an elaborate process. Tons of time, mindfulness, a small traditional copper still, fresh black forrest spring water are all needed to capture the sense of Freiburg – cosmopolitanism by tradition!
"A Gin with a christmassy collonial fruitiness. Flavours from orange chocolate, cloves, laurel, cinnamon, cardamom, broad and rich bouquet of spices. Multi-faceted and very full-bodied, with an accentuated tanginess.
tig und sehr füllig, mit betonter Schärfe."

Vinum magazine July/August 2019, "Seitensprung Guide Gin"
32,90 €
0,5 L | 45% vol | London Dry Gin
Perfect Serve
We admitt that there are some chances that this is not the absolutely best Gin & Tonic "Perfect Serve". But we're sure to be pretty close!
Gin & Tonic
4-6 cl DRYSAM Gin
Orange zest or a thinn frozen orange slice
3 gently crushed cardamom capsules
a dry and neutral Tonic (e.g. as simple as Schweppes Dry Tonic)
Beforehand chill your tumbler, ballon or highball with a couple of ice cubes (about half of the glass). Pour the gin in, add cardamom, orange and fill it up with tonic.
CHEERS!
Pure!
DRYSAM GIN is a perfect digestive and works exquisitely with or without ice. Play with the temperatur to discover the bouquet.